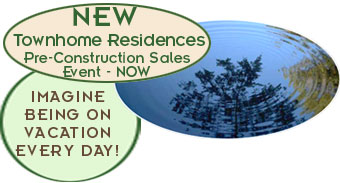 Welcome to the Highland Lake Market Center Townhomes Priority Reservation Program!

Imagine being on vacation everyday!
That's the idea behind the newest collection of luxury residences designed, built and marketed by the awarded winning team at Highland Lake. Scheduled to begin construction sometime in 2021 on a prime parcel adjoining the future Market Center at Highland Lake these 12 to 18 Luxurious and Spacious, No-Maintenance Townhomes are a rare find in Historic Flat Rock. Floorplans range in size from 1,800 to over 2,200 sqft with open living and gathering area layouts including 2, 3 or 4 Bedrooms with 2 and ½ baths. Designed in the Craftsman style, our Market Center Residences are planned to incorporate standard and optional amenities including:
Pocket Libraries W/ Cupolas (Standard)
Storage Rooms (Standard)
Natural Gas Vented Fireplaces (Standard)
Wood Floors (Standard - In Selected Areas)
Ceramic Tile Floors (Standard - In Selected Areas)
Spa-Like Master Bathrooms w/ Cultured Mabel Showers W/ Seats and Jetted Tubs (Standard)
Residential Elevators (Optional - On Some Floorplans)
A Whole House "Energy Star" Rating (Standard)
Signature "Harry Deaton" Design Elements Throughout (Standard - Subject to Change)

Thinking Globally and Acting Locally Just Got a Whole Lot Closer to Home!
Your Lifestyle - No Worries - No Maintenance

With all the amenities you expect from a Highland Lake home our Market Center Residences ownership experience thru your membership in the Market Center Residences HOA with monthly fees estimated at $275 is designed to offer you the additional conveniences of:
Included Lawn and Yard Maintenance
Included Exterior Maintenance
Included Homeowners Insurance
Included Butler and Maid Service (Just Kidding but seriously living in the Market Center Residences at Highland Lake is planned to be a full maintenance included lifestyle)
We intend to offer following residences in a Priority Reservation Program beginning sometimes in 2021. Please note that final pricing on each unit may be adjusted slightly based on final standard construction package and any customer selected options. We anticipate commencing construction on these homes sometimes in 2021.
Sample Pricing

Click Here to view a proposed site plan, proposed elevation renderings and proposed floorplans of Building V and Building VI for this exciting project. Please e-mail us at [email protected] for if you would like to be placed on our UPDATE LIST regarding this Highland Lake project.
The Market Center Townhomes of Highland Lake. All the amenities and lifestyle you expect from a Highland Lake home, wrapped up in a convenient, no-maintenece townhome package. Starting in the $300s.